Image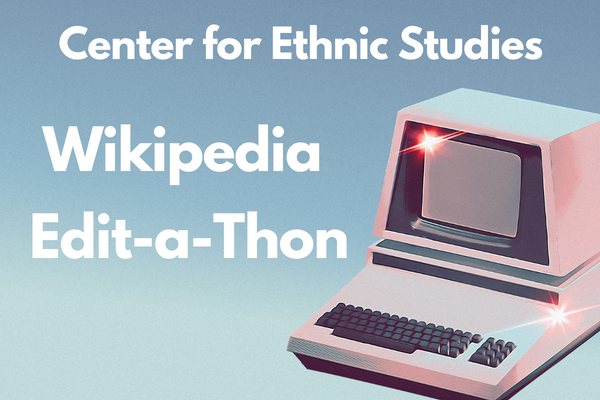 March 31, 2023
12:00PM - 4:00PM
Location
Barnett Center Collaboratory Space, Sullivant Hall Ground Floor
Date Range
Add to Calendar
2023-03-31 12:00:00
2023-03-31 16:00:00
Wikipedia Edit-a-Thon
RSVP here.  Wikipedia, the free online encyclopedia that anyone can edit, boasts millions of articles - yet it is far from complete! There are plenty of content gaps on topics related to underrepresented groups. Join us for a beginner-friendly introduction to learn how Wikipedia works and how anyone can edit. Participants will have a chance to dive in and contribute to Wikipedia, especially in topics related to Asian American Studies, American Indian Studies, and Latinx Studies, as well as other articles pertaining to ethnicity. No prior Wikipedia editing experience is necessary, and you will have guided support from experienced Wikipedians. Please bring your own laptop. Pizza and refreshments will be served. Please RSVP by clicking here. This event is sponsored by the Center for Ethnic Studies and The Humanities Institute, with support from the Ohio Wikimedians User Group (ohiowikimedians.org). Our event facilitator, Kevin Payravi, is a software engineer for Capital One in Plano, Texas. He graduated from Ohio State in 2017 with bachelor's in Computer Science and Engineering. In 2022, he graduated from Kent State with a master's in library and Information Science. He's passionate about the intersection of technology and librarianship, and how technology can help facilitate the dissemination of knowledge.  Kevin has been an avid Wikipedia editor and contributor to the Wikimedia movement for over 10 years. He currently serves on the Board of Wikimedia District of Columbia and is a co-founder and organizer of the Ohio Wikimedians User Group. He organizes several annual Wikimedia events, including WikiConference North America and Wiki Loves Monuments in the United States. This event is free and open to the public. Graduate students, undergraduates, faculty, staff and community members are welcome to attend. Also check out a similar event hosted by CES and the Columbus Metropolitan Library Northside Branch the following day.  For more information on this event, please email ethnicstudies@osu.edu.  RSVP 
Barnett Center Collaboratory Space, Sullivant Hall Ground Floor
OSU ASC Drupal 8
ascwebservices@osu.edu
America/New_York
public
Date Range
Add to Calendar
2023-03-31 12:00:00
2023-03-31 16:00:00
Wikipedia Edit-a-Thon
RSVP here.  Wikipedia, the free online encyclopedia that anyone can edit, boasts millions of articles - yet it is far from complete! There are plenty of content gaps on topics related to underrepresented groups. Join us for a beginner-friendly introduction to learn how Wikipedia works and how anyone can edit. Participants will have a chance to dive in and contribute to Wikipedia, especially in topics related to Asian American Studies, American Indian Studies, and Latinx Studies, as well as other articles pertaining to ethnicity. No prior Wikipedia editing experience is necessary, and you will have guided support from experienced Wikipedians. Please bring your own laptop. Pizza and refreshments will be served. Please RSVP by clicking here. This event is sponsored by the Center for Ethnic Studies and The Humanities Institute, with support from the Ohio Wikimedians User Group (ohiowikimedians.org). Our event facilitator, Kevin Payravi, is a software engineer for Capital One in Plano, Texas. He graduated from Ohio State in 2017 with bachelor's in Computer Science and Engineering. In 2022, he graduated from Kent State with a master's in library and Information Science. He's passionate about the intersection of technology and librarianship, and how technology can help facilitate the dissemination of knowledge.  Kevin has been an avid Wikipedia editor and contributor to the Wikimedia movement for over 10 years. He currently serves on the Board of Wikimedia District of Columbia and is a co-founder and organizer of the Ohio Wikimedians User Group. He organizes several annual Wikimedia events, including WikiConference North America and Wiki Loves Monuments in the United States. This event is free and open to the public. Graduate students, undergraduates, faculty, staff and community members are welcome to attend. Also check out a similar event hosted by CES and the Columbus Metropolitan Library Northside Branch the following day.  For more information on this event, please email ethnicstudies@osu.edu.  RSVP 
Barnett Center Collaboratory Space, Sullivant Hall Ground Floor
Center for Ethnic Studies
ethnicstudies@osu.edu
America/New_York
public
Description
Wikipedia, the free online encyclopedia that anyone can edit, boasts millions of articles - yet it is far from complete! There are plenty of content gaps on topics related to underrepresented groups. Join us for a beginner-friendly introduction to learn how Wikipedia works and how anyone can edit. Participants will have a chance to dive in and contribute to Wikipedia, especially in topics related to Asian American Studies, American Indian Studies, and Latinx Studies, as well as other articles pertaining to ethnicity. No prior Wikipedia editing experience is necessary, and you will have guided support from experienced Wikipedians. Please bring your own laptop.
Pizza and refreshments will be served.
Please RSVP by clicking here.
This event is sponsored by the Center for Ethnic Studies and The Humanities Institute, with support from the Ohio Wikimedians User Group (ohiowikimedians.org).
Our event facilitator, Kevin Payravi, is a software engineer for Capital One in Plano, Texas. He graduated from Ohio State in 2017 with bachelor's in Computer Science and Engineering. In 2022, he graduated from Kent State with a master's in library and Information Science. He's passionate about the intersection of technology and librarianship, and how technology can help facilitate the dissemination of knowledge. 
Kevin has been an avid Wikipedia editor and contributor to the Wikimedia movement for over 10 years. He currently serves on the Board of Wikimedia District of Columbia and is a co-founder and organizer of the Ohio Wikimedians User Group. He organizes several annual Wikimedia events, including WikiConference North America and Wiki Loves Monuments in the United States.
This event is free and open to the public. Graduate students, undergraduates, faculty, staff and community members are welcome to attend. Also check out a similar event hosted by CES and the Columbus Metropolitan Library Northside Branch the following day. 
For more information on this event, please email ethnicstudies@osu.edu. 
---