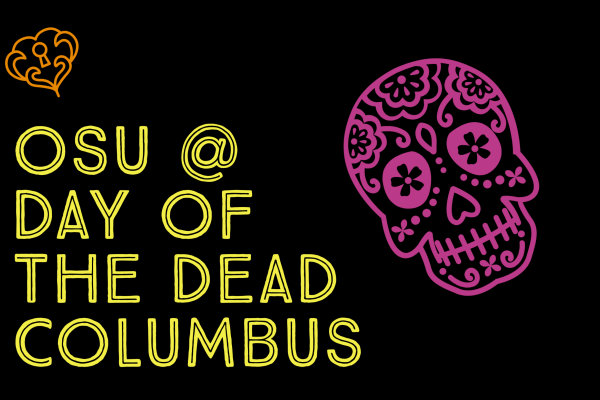 October 7, 2023
10:00AM - 6:00PM
Bus from High Street to Green Lawn Cemetery
Add to Calendar
2023-10-07 09:00:00
2023-10-07 17:00:00
Day of the Dead Columbus
Ohio State is once again partnering with the non-profit Latino Arts for Humanity to celebrate Day of the Dead Columbus. This festival is an educational, cultural and family event to remember and celebrate our loved ones who are no longer with us. It is also a great opportunity to engage with and support the local Latinx community There will be art exhibits, living altar performances, ofrendas, arts and crafts vendors, activities for kids (including free face painting!), calavera poetry workshops, Aztec dance, opportunities to learn about Day of the Dead and much more!  The event is free and open to the public. There will be a free bus running from campus to the cemetery, but you are also able to drive and park on your own. Due to game day traffic, the bus (run by Cardinal transportation) will pick students up on 11th ave, east of High at the side of Barnes & Noble. The first bus leaves the Union at 9:30am, with the last bus leaving Greenlawn at 6pm. Hope to see you there! Interested in volunteering? Sign up here!  Questions? Contact Leila Vieira.31@osu.edu  Greenlawn Cemetery 1000 Greenlawn Ave Columbus, OH 43223
Bus from High Street to Green Lawn Cemetery
OSU ASC Drupal 8
ascwebservices@osu.edu
America/New_York
public
Date Range
Add to Calendar
2023-10-07 10:00:00
2023-10-07 18:00:00
Day of the Dead Columbus
Ohio State is once again partnering with the non-profit Latino Arts for Humanity to celebrate Day of the Dead Columbus. This festival is an educational, cultural and family event to remember and celebrate our loved ones who are no longer with us. It is also a great opportunity to engage with and support the local Latinx community There will be art exhibits, living altar performances, ofrendas, arts and crafts vendors, activities for kids (including free face painting!), calavera poetry workshops, Aztec dance, opportunities to learn about Day of the Dead and much more!  The event is free and open to the public. There will be a free bus running from campus to the cemetery, but you are also able to drive and park on your own. Due to game day traffic, the bus (run by Cardinal transportation) will pick students up on 11th ave, east of High at the side of Barnes & Noble. The first bus leaves the Union at 9:30am, with the last bus leaving Greenlawn at 6pm. Hope to see you there! Interested in volunteering? Sign up here!  Questions? Contact Leila Vieira.31@osu.edu  Greenlawn Cemetery 1000 Greenlawn Ave Columbus, OH 43223
Bus from High Street to Green Lawn Cemetery
Center for Ethnic Studies
ethnicstudies@osu.edu
America/New_York
public
Ohio State is once again partnering with the non-profit Latino Arts for Humanity to celebrate Day of the Dead Columbus. This festival is an educational, cultural and family event to remember and celebrate our loved ones who are no longer with us. It is also a great opportunity to engage with and support the local Latinx community
There will be art exhibits, living altar performances, ofrendas, arts and crafts vendors, activities for kids (including free face painting!), calavera poetry workshops, Aztec dance, opportunities to learn about Day of the Dead and much more! 
The event is free and open to the public. There will be a free bus running from campus to the cemetery, but you are also able to drive and park on your own. Due to game day traffic, the bus (run by Cardinal transportation) will pick students up on 11th ave, east of High at the side of Barnes & Noble. The first bus leaves the Union at 9:30am, with the last bus leaving Greenlawn at 6pm.
Hope to see you there!
Interested in volunteering? Sign up here! 
Questions? Contact Leila Vieira.31@osu.edu 
Greenlawn Cemetery
1000 Greenlawn Ave
Columbus, OH 43223
---